Stream Wednesday Season 1 Episode 7 (If You Don't Woe Me by Now)
Kooky Uncle Fester pays a visit and shares his theory about the monster. Wednesday begrudgingly agrees to a date with Tyler at Crackstone's crypt.
IF ANY MOVIE OR EPISODE FAILS TO PLAY DESPITE YOU HAVING A STRONG INTERNET CONNECTION, IT COULD BE DUE TO A  DOWNTIME ON ONE OF OUR PLAYER SERVERS.
TRY SWITCHING TO A DIFFERENT SERVER ON THE PLAYER.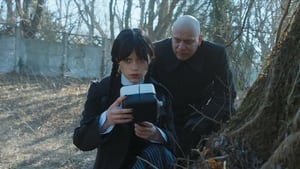 Nov. 23, 2022