Stream Wednesday Season 1 Episode 2 (Woe Is the Loneliest Number)
The sheriff questions Wednesday about the night's strange happenings. Later, Wednesday faces off against a fierce rival in the cutthroat Poe Cup race.
IF ANY MOVIE OR EPISODE FAILS TO PLAY DESPITE YOU HAVING A STRONG INTERNET CONNECTION, IT COULD BE DUE TO A  DOWNTIME ON ONE OF OUR PLAYER SERVERS.
TRY SWITCHING TO A DIFFERENT SERVER ON THE PLAYER.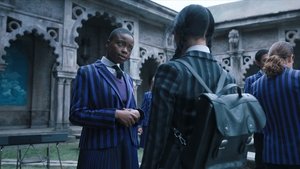 Nov. 23, 2022