Stream Wednesday Season 1 Episode 1 (Wednesday's Child Is Full of Woe)
When a deliciously wicked prank gets Wednesday expelled, her parents ship her off to Nevermore Academy, the boarding school where they fell in love.
IF ANY MOVIE OR EPISODE FAILS TO PLAY DESPITE YOU HAVING A STRONG INTERNET CONNECTION, IT COULD BE DUE TO A  DOWNTIME ON ONE OF OUR PLAYER SERVERS.
TRY SWITCHING TO A DIFFERENT SERVER ON THE PLAYER.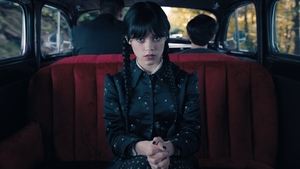 Nov. 23, 2022