Stream Walker Independence Season 1 Episode 2 (Home to a Stranger)
Abby is joined by rough and tumble outlaw Hoyt and Apache scout, Calian, when she revisits the tragic site of her life's demise in search of clues to help uncover the cold-blooded killer hiding in town. Meanwhile, new Sheriff Tom Davidson, and the town's loyal Deputy, Gus, are determined to track down the "mysterious" man responsible for the recent bank robbery. Kate badgers Hagan into doing the right thing, and Lucia finds a new friend – and discovers a surprising talent – in Kai.
NOTICE 🔔
GLOBBYTV.COM IS A FREE MOVIE STREAMING PLATFORM. WE DO NOT OFFER DOWNLOADS WHICH MEANS ANY MOVIE UPLOADED WILL HAVE TO BE WATCHED ON THE WEBSITE & CANNOT BE DOWNLOADED.
IF ANY MOVIE OR EPISODE FAILS TO PLAY DESPITE YOU HAVING A STRONG INTERNET CONNECTION, IT COULD BE DUE TO A  DOWNTIME ON ONE OF OUR PLAYER SERVER. TRY SWITCHING TO ANOTHER SERVER IF THAT OCCURS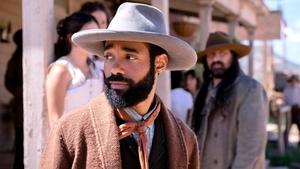 Oct. 13, 2022