Stream Money Heist Season 2 Episode 11 (Anatomy Lesson)
The Professor's mole attempts to pass along his message to the person inside the tent. Denver's jealousy toward Mónica and Rio's friendship heightens.
IF ANY MOVIE OR EPISODE FAILS TO PLAY DESPITE YOU HAVING A STRONG INTERNET CONNECTION, IT COULD BE DUE TO A  DOWNTIME ON ONE OF OUR PLAYER SERVERS.
TRY SWITCHING TO A DIFFERENT SERVER ON THE PLAYER.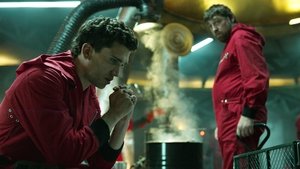 Apr. 03, 2020