Stream Citadel Season 1 Episode 1 (The Human Enigma)
In the series premiere, Mason Kane and Nadia Sinh – top agents of the independent spy organization Citadel – collide with a nefarious, new syndicate – Manticore – leading to catastrophe. Eight years later, Mason Kane is living a quiet life as "Kyle Conroy," with no memory of his past. Until one day an old colleague enlists his help to stop a now powerful Manticore from creating a new world order.
NOTICE 🔔
GLOBBYTV.COM IS A FREE MOVIE STREAMING PLATFORM. WE DO NOT OFFER DOWNLOADS WHICH MEANS ANY MOVIE UPLOADED WILL HAVE TO BE WATCHED ON THE WEBSITE & CANNOT BE DOWNLOADED.
IF ANY MOVIE OR EPISODE FAILS TO PLAY DESPITE YOU HAVING A STRONG INTERNET CONNECTION, IT COULD BE DUE TO A  DOWNTIME ON ONE OF OUR PLAYER SERVER. TRY SWITCHING TO ANOTHER SERVER IF THAT OCCURS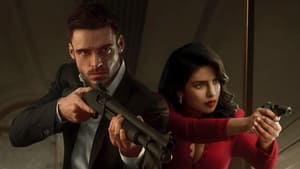 Apr. 27, 2023