Stream BMF Season 1 Episode 1 (See It... Touch It... Obtain It)
Meech avoids a street war by moving his crew "The 50 Boyz" to a new location. He and his brother Terry cook up a more potent batch of drugs that creates enough demand to help their family overcome the economic crisis.
IF ANY MOVIE OR EPISODE FAILS TO PLAY DESPITE YOU HAVING A STRONG INTERNET CONNECTION, IT COULD BE DUE TO A  DOWNTIME ON ONE OF OUR PLAYER SERVERS.
TRY SWITCHING TO A DIFFERENT SERVER ON THE PLAYER.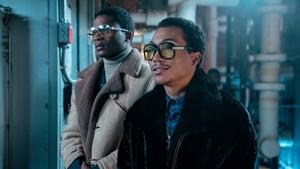 Sep. 26, 2021